---
EM-S ISD Financial Overview | September 18, 2012
---
At the September 17, 2012 Board meeting last night, a report was presented on the district's finances through the 2017-2018 school year. We have faced steep budget cuts in the last two years, and if things do not change at the state level, further reductions will continue. In order to be prepared for an unknown financial future, the Board voted to declare financial exigency as well as to explore further budget reductions and opportunities for revenue enhancements.
By declaring financial exigency, the district is declaring a financial emergency. The Texas Education Agency considers the following areas as reasons for declaring a state of financial exigency: declining student enrollment, declining tax base, loss of state funding, tax revenue decreases, and efforts to conserve the district's fiscal resources.
In many cases, districts will declare financial exigency and then immediately begin a reduction in force (RIF). This is not the case for EM-S ISD. There are no planned reductions in force for the 2012-2013 school year.
The District will immediately start examining ways we can reduce the budget as well as explore new funding sources for budget enhancements, including investigating the possibility of a Tax Ratification Election (TRE) in September of 2013. This will be a collaborative process with input from every campus and the community.

---
Overview of State Funding for EM-S ISD
---
In 2011 during the 82nd legislative session, the Texas legislature made the decision to cut education dollars by 5.4 billion dollars. Governor Perry declined to use the State's Economic Stabilization Fund ("rainy day fund"), which has existed since 1989 to "…prevent or eliminate a temporary cash deficiency in general revenue." Because our legislature did not address the shortfall at the state level, funding was reduced for EM-S ISD by 8.5 million in the 2011-2012 school year and 2.5 million for 2012-2013. In fact, we receive $371 less for each student in 2012-2013 than we received in the 2005-2006 school year.
If current law is not changed, we will receive no increases in funding for the next four years and according to current law, in the 2017-2018 school year we will lose another 13 million. This decrease is happening at the same time we are projected to gain approximately 500 students per year and the cost of operating our schools continues to rise.
---
To address the 11 million shortfall, we have managed the budget impact by:
---
*The state class size limit without a waiver from the TEA. A waiver allows the district to exceed the class size limit set by the TEA.
Reducing staff by 37 positions through normal resignations and retirements. We were compelled to do this even though our student population has grown by over 800 students in the past two years and we opened Chisholm Trail, our third high school.





Changing our school hours to allow us to move to a three-tier bus system. This change reduces transportation expenses by $750,000 annually.





Reducing campus and departmental discretionary budgets by 15% for two years in a row.





Reducing costs for supplies, electricity, and water.





Using our fund balance strategically to meet budget shortfalls.





Raising the maintenance and operations (M&O) tax rate by $.05 since 2010.

Click here to download and read Dr. Chadwell's letter to the community about District finances through 2017.
---

---
Have a question about EM-S ISD finances? Hear a rumor that you are wondering about? Have some thoughts on how we can reduce the budget?

Send a response to our General Mailbox by clicking below.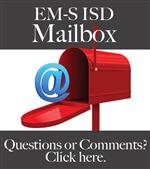 ---
1. Stay informed about school finance and its effects on the EM-S ISD community.
2. Urge legislators to support our public schools by ensuring the proper financing of our school district.
3. Be involved in the District and the community.
---
---
Moak Casey News Updates

www.moakcasey.com
Moak Casey & Associates are Texas school finance and accountability experts and advise school districts around the state. Visit their website for the latest in legislative updates as well as school finance publications.
---
Texas Education Agency
www.tea.state.tx.us
Click on Funding in the column on the left on the TEA homepage.
---
Who Represents Me
?
www.fyi.legis.state.tx.us
Who Represents Me provides information about current districts and members of the Texas Senate, Texas House of Representatives, the Texas delegation to the U.S. Senate and House of Representatives, and the State Board of Education.