Return to Headlines
Students, parents can learn together in new EMS ISD World Languages Academy
World Languages Academy
Fall Session: Oct. 3-Nov. 9
Spring Session: Jan. 23-March 1
Tuesdays & Thursdays, 6-7:30 p.m.
Hollenstein Career & Technology Center
5501 Marine Creek Parkway
Fort Worth, TX 76179
Parents and their children now will have the opportunity to learn a language together through EMS ISD's new World Languages Academy. Opening in October 2017, the program will offer language enrichment courses for students grades 2-12 and their families.
The Academy will debut with Spanish and American Sign Language, which were the top two languages requested in a survey of parents during spring 2017. Additional language classes will be considered as the program grows.
"We are so excited to offer this unique enrichment experience for our students and their families," said Stacy Summerhill, EMS ISD Executive Director of Curriculum and Instruction. "The Academy will allow our younger students to be introduced to new languages earlier and provide our older students with an additional outlet for language development. Most importantly, it will give parents and grandparents an opportunity to spend time with their child learning together right here in their home school district."
More than 1,200 parents responded to the voluntary survey conducted March 28-April 4. In the survey, Spanish was the top language desired by parents for both their child (79%) and themselves (70%). American Sign Language came in second at 45 percent. In addition, 85 percent of respondents said they would want to participate in a language enrichment course with their child.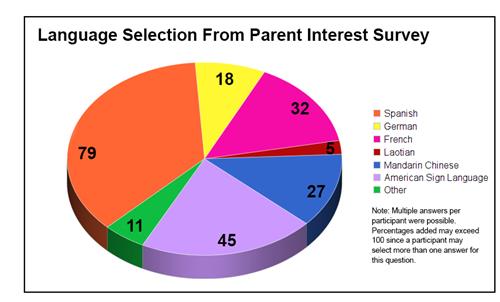 Each course will offer both elementary-level and secondary-level curriculum* and will be taught by state-certified educators in EMS ISD. The American Sign Language curriculum will be delivered in class, while the Spanish curriculum will offer a blended learning consisting of both online courses and classroom instruction. Both sessions will close the year with an interactive, cumulative class activity to celebrate completion of the course.
The program is open to students in grades 2-12 free of charge. The cost for a parent or grandparent to participate with the child is $75 per year. Each class is limited to 30 members.
Classes meet on Tuesdays and Thursdays from 6-7:30 p.m. at the Hollenstein Career and Technology Center located at 5501 Marine Creek Parkway in Fort Worth. The fall session runs October 3 through November 9, and the spring session runs January 23 through March 1.
Classes are now full. For more information, please contact Heath Dollar, ESL/Bilingual Coordinator, at hdollar@ems-isd.net or 817-847-7793.
*The World Languages Academy is an enrichment program separate from curricular world languages courses offered in 8th grade and high school, and will not count toward foreign language graduation requirements.