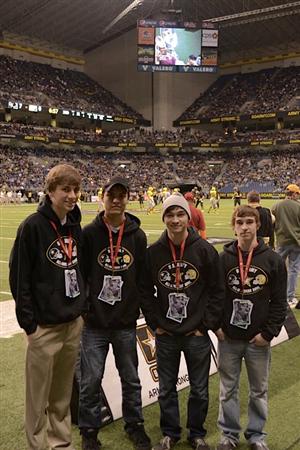 Four students from the Video Technology Department at the Hollenstein Career and Technology Center were invited to be a part of the media team covering the week's events surrounding the Army All-American football game that was broadcast nationally on NBC.
Justin Stringfellow and Steven Ramirez, seniors at Saginaw High School, and Dakota White and Jon Blaze, seniors at Boswell High School, spent the week in San Antonio working along side media professionals.
Students filmed practices and games, attended and filmed a private concert by Wale, interviewed players and celebrities, and edited projects including the opening to the Eastbay All-Star game. Students were on the sidelines for the game except when they got a private tour of NBC's 6-million dollar live event truck during the game.
"I am so proud of how our students represented the program, school, and our district," said Jerome Butler, the media technologies instructor at the Hollenstein Career and Technology Center. "They were professional and proved that they have what it takes to be successful in this industry."
Jim Montalbano, the director of video for the All-American Games (AAG) and a videographer for the New York Jets also added, "Phenomenal work by the students of EM-S ISD at the All-American games bowl week. These students represented themselves, their school, and their families with the utmost respect and did everything that was asked." They exceeded all expectations and all have bright futures ahead of them in whatever field they pursue."
The students' efforts were also recognized by Rich McGuiness, President and creator of the Army All-American game and AAG saig, "The EM-S ISD students who supported the video production team for the U.S. Army Bowl were a tremendous help to the Bowl's media efforts. Their work supported our efforts in social media, web cast production, and television content. The students were talented, professional, hard-working and energetic throughout the very busy and intense Bowl Week. We could not have delivered the hundreds of hours of content without them. We look forward to having them back next year. "
For more information about the various programs mentioned in this article please visit the following websites: