---
Culinary Arts students from the Hollenstein Career & Technology Center competed in the 2013 Texas ProStart Regional Invitational at the Hurst Conference Center on January 22nd and 23rd in Hurst, Texas. The culinary arts students had one hour to create a three course meal from scratch using only food and equipment that they brought in and two butane burners provided by the competition. No electric or battery operated equipment could be used. The culinary menu was: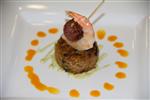 Starter
Deconstructed Texas Paella
Texas Gulf Shrimp and Texas Elk Sausage Skewer
Avocado and Lime Sauce and Smoked Paprika Oil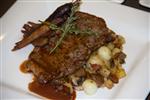 Entrée
Beeman Ranch New York Strip
Potato and Chestnut Hash
Braised Baby Rainbow Carrots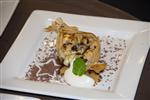 Dessert
Cordilldera and Callebout Chocolate Bread Pudding Tamale
Dublin Dr. Pepper Sauce
The management team created a mock restaurant concept and presented it to a panel of industry experts for review. Their concept, called "Live!", is a restaurant with terraced style seating and an open restaurant where the kitchen and all of its activities is the focus. The students were also "grilled" by a separate panel of judges to test their critical thinking abilities when it comes to real world restaurant scenarios.
This was the second year for students to compete in culinary arts, and their first year to compete in the management competition. The culinary team placed 4th out of 25 teams, and the management team took 6th out of 13 teams. The teams have earned the right to advance to the Texas ProStart State Invitational at the Waco Convention Center in Waco, Texas on March 20 & 21. The public is welcome to attend the culinary competition and cheer on the team in Waco.
The top team in each category will advance to the national level of competition in Baltimore, Maryland in April.
Alexis Baker (Senior, BHS)

Josh Daughhetee (Junior, SHS)

Adriana Aguilera (Senior, SHS)

Adrian Gonzales (Senior, BHS)

Chance Horn (Junior, SHS)

Kevin Mathews (Junior, SHS)

Cindy Ramirez (Senior, SHS)

Annaleise Gordon (Senior, SHS)

Ashley Davis (Junior, SHS)

Raney Beckham (Junior, SHS)



The Culinary Arts Program is led by Chef Damion Brown and Chef John Bracknell.