Return to Headlines
LPES students showcase Blue Zones culture for National Team visitors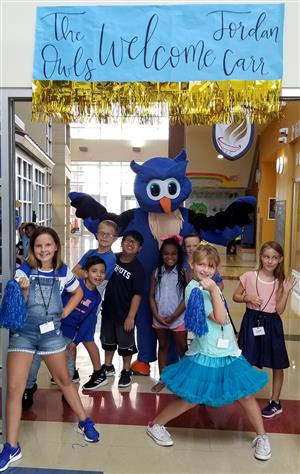 Students at Lake Pointe Elementary had an important visit from members of the Blue Zones National Team recently, but it was the visitors who got the real treat when they experienced first-hand how the Owls are building the Blue Zones principle of making healthy choices into their everyday school culture.
On Thursday, September 13, Lake Pointe ES welcomed Mr. Jordan Carr and representatives of the Blue Zones Project from both the Fort Worth and the national offices to their school as part of a tour of Blue Zones Project approved campuses. Their tour included stops at various grade levels, where students demonstrated different ways the Blue Zones ideas are being implemented.
"Lake Pointe Elementary School reflected excellence and high achievement through many Blue Zones best practices, especially mindfulness and kindness," said Carr, National Senior Program Manager, Blue Zones Project. "It was inspiring to see adults join the Luminous Owls in showing what it means to be a Blue Zones Project school."
In kindergarten, children were enjoying a healthy snack of "Blue Zones applesauce" with an orange slice, and offered the team to try a bite! Second-graders taught the team how to choose a healthy beverage, using the district's new interactive display board in their classroom to compare the health qualities of different beverages. Third-grade students illustrated how they incorporate Restorative Classroom Circles to build community, promote empathy, and repair relationships. Then, fourth-graders shared about the kindness rocks hidden around the school for other students to find to make sure everyone knows they are cared for at LPES. In fifth grade, the Super Owls shared tips from the Blue Zones summit on nutrition, fitness, and stress relief.
Following the grade-level tour, the Blue Zones team visited the cafeteria to learn about the healthy options available to students, including a salad bar featuring local produce, then sat in on a physical education class to see how students are challenged to incorporate physical movement throughout their day to promote health and wellness. The visit ended with their Owls Beliefs cheer, performed out loud and in their newly learned sign language.
"It was such a joy for the Owls to welcome Jordan Carr from the Blue Zones National Team to Lake Pointe," said Dr. Audrey Arnold, Principal. "Our students and staff were so excited to share the many ways the Blue Zones Project has been integrated into the culture at Lake Pointe. Our Owls are engaged in making healthy choices in every aspect of our day – through what we eat, how we move, and how we treat each other. The language here at Lake Pointe is kindness and we live it out each day, with our goal of performing one million Luminous Acts of Kindness every school year. We exceeded that goal last year and are already on track to break that record!"
EMS ISD is proud to have four campuses designated as Blue Zones-approved schools – LPES, Chisholm Ridge Elementary, Comanche Springs Elementary, and Greenfield Elementary. All these schools are working actively to build healthy choices into the culture and daily lives at both school and home. In addition, the EMS ISD Educational Services department is leading the effort to become a Blue Zones workforce site for the district.
"We are incredibly grateful that Eagle Mountain-Saginaw ISD has four schools that have such strong support for Blue Zones Project and its principles," said Matt Dufrene, Vice President of Blue Zones Project Fort Worth.
With the goal of significantly improving health and lowering healthcare costs, Blue Zones is dedicated to creating healthy communities across the United States including Fort Worth. To become a Blue Zone designated school, a school must provide documentation of implementing Blue Zones policies and programs into their school pledge and carrying out those tenets in various aspects of the school environment. The Blue Zones initiative is rooted in The New York Times best-selling books, "The Blue Zones," "The Blue Zones Solution," and "Thrive" – published by National Geographic. Research shows that there are five regions in the world where residents live longer, healthier, happier lives than those in other areas. These areas were labeled "Blue Zones." As a result, the tenets of "The Blue Zones" are now being applied in 29 Blue Zones Project® cities throughout the United States.