Return to Headlines
Remington Point counselor nominated for national LifeChanger of the Year award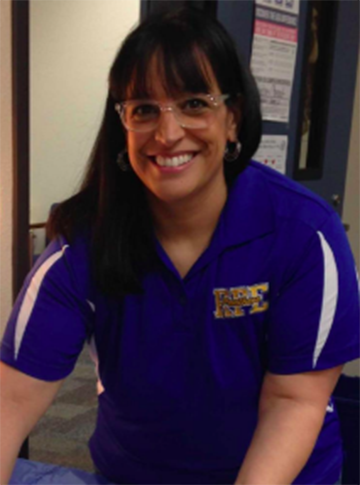 Remington Point Elementary School counselor Alice Cedillo has been nominated for the 2018-2019 national LifeChanger of the Year award.
Cedillo was recognized for consistently supporting her school's mission to create a well-rounded child. She noticed that students at the campus needed reinforcement and modeling to do simple things such as engage in reciprocal greetings, acknowledgements of compliments, and offering and receiving apologies. She teaches students to properly advocate for themselves, and tirelessly works with community programs to make sure students have the materials they need.
Cedillo was nominated by her principal, Dr. Chaney Curran.
"Mrs. Cedillo has changed the culture and climate of Remington Point Elementary since she began her work in 2016," Curran said. "As she works with a variety of people, Mrs. Cedillo maintains a professional demeanor where all thoughts and ideas are valued. Her ability to 'think outside the box' and utilize her resources allows her to be a highly effective leader and model for others."
About LifeChanger of the Year
Sponsored by the National Life Group Foundation, LifeChanger of the Year recognizes and rewards the very best K-12 educators and school district employees across the United States who are making a difference in the lives of students by exemplifying excellence, positive influence and leadership.
Each school year, LifeChanger of the Year receives hundreds of nominations from all 50 states and the District of Columbia. Seventeen individual LifeChanger of the Year awards will be given during the 2018-2019 school year.
(1) Grand Prize Winner – will receive $10,000 to be shared with their school/district.
(4) Grand Prize Finalists – will receive $5,000 to be shared with their school/district.
(10) LifeChanger Award Winners – will receive $3,000 to be shared with their school/district.
(1) Spirit Award Winner – This award is given to the nominee whose community demonstrates the most support for their nomination. The winner will receive $5,000 to be shared with their school/district.
(1) Spotlight Award Winner – This award is given to a nominee in a specific discipline each year. For 2018-19, the Spotlight Award will be given to a nominee who works in a counseling role (e.g, guidance counselor, social worker). The winner will receive $5,000 to be shared with their school or district.
Winners are announced via surprise award ceremonies held at their schools. The grand prize finalists will also be honored at a national awards ceremony in April 2019 in Hawaii, where the Grand Prize Winner will be revealed.
Winners are chosen by a selection committee comprised of former winners and education professionals. Nominees must be K-12 teachers or school district employees. To be considered for an award, nominees must:
Make a positive impact in the lives of students
Enhance their school or district's atmosphere, culture and pride
Demonstrate exemplary leadership at the school and/or district level
Possess a proven record of professional excellence
Show commitment to building a nurturing environment that supports learning
Adhere to the highest moral and ethical standards
To view Mrs. Cedillo's LifeChanger of the Year nominee profile, visit http://app.lifechangeroftheyear.com/nomination_detail.cfm?NominationID=2387&NominationYear=2018.