Return to Headlines
BHS Fine Arts Signing Day: 32 students sign intentions to continue Fine Arts in college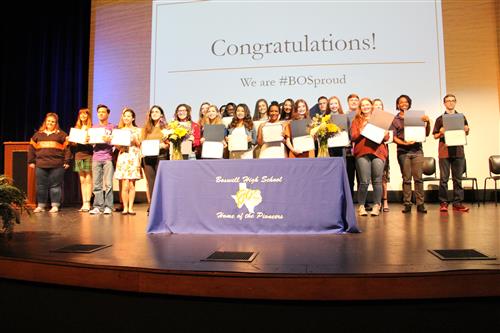 Boswell High School hosted its inaugural Fine Arts Signing Day in the school auditorium Wednesday morning, May 22, for 32 students who have signed intentions to continue in the Visual and Performing Arts in college.
As the students' names were announced, they came up to the stage and signed their name to a document that will hang in the Fine Arts lobby with names being added each year.
EMS ISD Director of Fine Arts Shawn Bell started the ceremony with the following words, "These students have given their talent, creativity, and efforts to enrich the Fine Arts Programs at Boswell High School. As the students are called, they will step on stage and commit their name to a document that is a symbolic representation of their achievement, their commitment to the Arts, and to the support that the Visual and Performing Arts receive throughout the Eagle Mountain-Saginaw School District."
A reception followed for the students and their families. To view photos from the event, click here.
Congratulations to these students:
ART
Jacob Hall - Tarrant County College, Photography (700.00 AP Senior Portfolio)
Issac Larner - Tarrant County College, Film
Austin Myers - Tarrant County College, Art
Hannah Powell - Tarrant County College, Photography (500.00 AP Senior Portfolio)
Molly Ramon - University of North Texas, Communication Design ($32,750 in scholarships)
Monique Rodriguez - Tarrant County College, Animation
Felicia Sander - Texas A&M University Commerce, Art
BAND
Christopher Brito - Tarrant County College, Music
Marquis Buckley - Texas A&M, Electrical Engineering, Minor in Jazz Studies
Celes Cost - Oklahoma State University, Psychology, Oklahoma State University Cowboy Marching Band
Haley Dill - Baylor University, History, Baylor University Golden Wave Band (More than $90,000 in scholarships and grants)
Hector Fontanez - University of North Texas, Electrical Engineering, UNT Green Brigade Marching Band
Nicole Keller - University of North Texas, Biology, UNT Green Brigade Marching Band
Faith McDonough - University of North Texas, Media Art, UNT Green Brigade Marching Band
Brady McLain - Texas Tech, Mechanical Engineering, Texas Tech Goin' Band from Raiderland
Alfredo Ortiz - Texas Christian University, Music Theory and Composition (5 musical scholarships - full tuition)
J.J. Spence - McLennan College, Computer Science, Baylor University Golden Wave Band
Desiree Whiteman - Oklahoma State University, Musical Education
DANCE
Aaliyah Flores - Tyler Junior College, Dance, Apache Bells Dance Team
Noelia Gaytan - Kilgore College, Dance, Rangerette Dance team
Andraya Miller - University of Texas Arlington, Dance, Mavericks Dance team
Grace Peacock - Kilgore College, Rangerette Dance team
Caitlynn Sumstine - Texas Wesleyan University, Dance, Gold Line Dance Team ($1000 scholarships)
Korleigh Webb - Tyler Junior College, Dance, Apache Bells Dance Team
MUSICAL THEATRE
Solomon Gilstrap - American Musical and Dramatic Academy, Musical Theatre
Destiny Martinez Wilson - Texas State University, Musical Theatre
THEATRE
Meghan Ditty - Mary Hardin Baylor University, Film ($95,672 in scholarships)
Ayden Grzybowski - Tarrant County College, Theatre
Gianina Lambert - University of Arkansas, Theatre ($44,900 in scholarships)
Meghan Lewis - Texas Wesleyan University, Technical Theatre ($92,400 in scholarships)
Landry Miller - University of Arkansas, Theatre
Rachael Ogburn - Lamar University, Theatre