Return to Headlines
Marine Creek Middle School dedication and ribbon cutting ceremony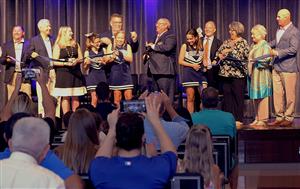 The cafeteria at Marine Creek Middle School had a full house on Monday, August 5, for the dedication ceremony and ribbon cutting of EMS ISD's sixth middle school. Serving students in grades 6-8, Marine Creek Middle School is located on Marine Creek Parkway, just north of the district's Hollenstein Career and Technology Center, and will feed into Chisholm Trail High School. Known as the Mustangs, they proudly boast the school colors of indigo blue, silver, and white.
EMS ISD Board President Steven G. Newcom opened the dedication ceremony with welcome remarks and special introductions including fellow Board members and elected officials. Dr. Jim Chadwell, Superintendent, continued commemorative remarks with a brief overview of the vision and process that included students, staff, parents, and community members providing insight and suggestions for the design and function of the facility.
"The vision of the school was focused on collaboration, efficiencies, safety, and quality instructional spaces," Chadwell said. "It's certainly a beautiful facility and, as nice as all of the aesthetic comments are, a school is first and foremost designed for learning. We have created the framework for excellence to happen in this building and now we are excited to see the students and staff build on that framework for success."
Marine Creek Middle School boasts a bold new architectural design, highlighting a visual connection between interior and exterior spaces, and supporting collaboration and a connection with nature. Optimal natural lighting, as well as outdoor learning venues, provide opportunities for healthy learning experiences outside the classroom. Non-traditional classrooms and science labs provide flexible furnishings and movable tables with frosted glass serving as writable surfaces to create student collaboration spaces. The Media Center (library) is an open-access, multi-functional space with wireless technology throughout, including a large-format video wall for large-group instruction. A "Think Tank" area overlooking the Media Center offers an unassigned shared space for students and staff surrounded by glass walls. This transparency allows for spontaneous and autonomous student collaboration while still allowing teachers to oversee productivity. An outdoor learning courtyard supports the district's belief in bridging the gap between academics and the social, emotional, and healthy well-being of children.
Following the ribbon cutting, Principal Danny Knowles shared this year's campus theme, #neverridealone, which is designed to promote a culture of camaraderie among the new Mustang family. A reception and tours followed the program.
"I look forward to meeting the students who will join me and work alongside them, and the staff and parents, to build a culture and climate that prepares students for any opportunity they choose to pursue in life," Knowles said.
Marine Creek Middle School will welcome the first Mustangs to walk its halls on August 19, 2019. Marine Creek Middle School administrative staff includes Principal Knowles, Assistant Principal Christie Warden, and Assistant Principal Whitney Wheeler.
Best wishes to the MCMS staff and students at the start of this new adventure and welcome to the EMS ISD family! We are #emsproud to #neverridealone!