Return to Headlines
Board honors VLK Architects through statewide school business partner program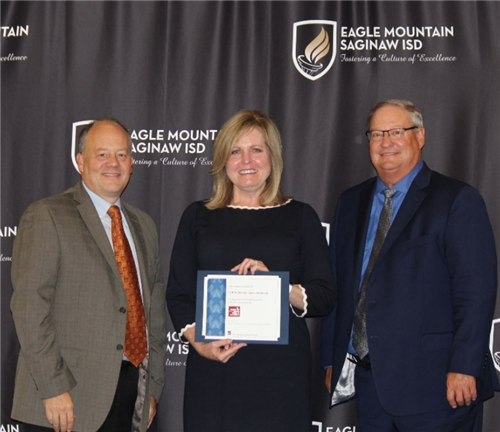 The EMS ISD Board of Trustees, in partnership with the Administration and the EMS Education Foundation and Community Partnerships program, are pleased to recognize VLK Architects as part of the statewide Businesses Supporting Public Schools initiative through the Texas Association of School Boards (TASB). During the August 26 Board meeting, Trustees honored VLK and principal architect Leesa Vardeman for their long-standing commitment and service to Eagle Mountain-Saginaw ISD families, and for their efforts to stand up for public schools in our community.
VLK has designed the majority of new school construction or remodeling projects across the district, with their most recent project being the district's sixth middle school campus, Marine Creek Middle School. Over the years, district personnel have worked closely with Vardeman and the VLK team to plan and prepare for continued enrollment growth.
Vardeman has been quoted as saying, "My passion is to design buildings that add value to the community, are healthy and environmentally sustainable, and provide an engaging experience for the occupants."
Vardeman's professional work not only compliments EMS ISD's high standards for facilities in the district, but her compassion for our students resonates in her request to partner with the Education Foundation each year. VLK works to secure student and teacher college scholarships, and supports classroom resource grants to assist teachers with innovative instructional tools that deepen student engagement and enhance learning. VLK also sponsors the annual Back 2 School Bash presented by Community Link Mission, and recognizes the leadership of our school trustees during School Board Appreciation Month with a charitable donation to the Foundation.
To further their support of Texas public schools, VLK supports statewide organizations including the Texas Association of School Administrators, Fast Growth Schools Coalition, and Friends of Texas Public Schools, to name a few. Vardeman serves as a committee member for the Texas Society of Architects Security and Safety Workgroup and is an active member of the EMS ISD Career and Technology Education Advisory Committee.
Eagle Mountain-Saginaw ISD and its schools value the partnerships we have with our local businesses and appreciate the generous investment of time and resources from businesses and organizations in our community. These partnerships provide vital support to our schools that enhance the educational environments and opportunities for EMS ISD students and staff.
As a TASB recognition program honoree, VLK received a personalized certificate and Stand Up for Texas Public Schools merchandise, and the VLK Architects name will be posted on the TASB website and in printed materials recognizing them for their support of Texas public schools. EMS ISD appreciates VLK and Vardeman for their assistance, support, and partnership in service to our students, staff, and families. We are #emsproud to partner with you!
Pictured above: VLK Principal Architect Lisa Vardeman (center) with EMS ISD Superintendent Dr. Jim F. Chadwell (left) and EMS ISD Board President Steven G. Newcom.