Return to Headlines
Field named for first SHS principal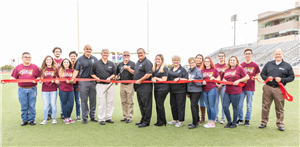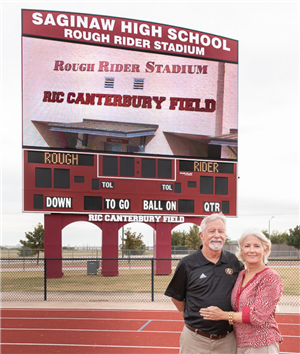 EMS ISD and the Board of Trustees hosted a dedication ceremony to honor a long-time educator who has made significant contributions to both the school district and the community. On October 16, 2019, the Board dedicated the competition field at Rough Rider Stadium in honor of Ric Canterbury, who has served the Saginaw and EMS ISD communities for 23 years.
The ceremony immediately preceded the annual SHS Homecoming Carnival and Community Pep Rally, which is one of Canterbury's favorite community events. He also will conduct the ceremonial coin toss on Friday night at the Homecoming game. The stadium will continue to be called Rough Rider Stadium, with the field itself named for Canterbury. This is the first location at Saginaw High School to be selected for dedication.
"Eagle Mountain-Saginaw ISD has a long, proud, and rich history built by people with passion and vision to make a difference," said Dr. Jim F. Chadwell, EMS ISD Superintendent. "The night of the Homecoming Carnival and Community Pep Rally could not be a more perfect time to honor a man who absolutely embodies the spirit of Saginaw High School. Mr. Canterbury is an outstanding educator and leader who has made an incredible difference in the lives of so many students, staff, and families in EMS ISD."
Known fondly as "Rough Rider Ric," Canterbury made it a point to get to know as many of the students and their families as he could. He was usually seen out in the hallways of Saginaw High School talking and "high-fiving" with students before and after school, at lunch, during passing periods, and at school events. He understood the importance of building positive and encouraging relationships with students and his authentic charisma made everyone feel welcomed as part of the Saginaw High School family.
Canterbury grew up in the EMS ISD community, attending Blue Mound Elementary School (now L.A. Gililland Elementary) and Saginaw Elementary School, Wayside Middle School, and graduating with Boswell High School's Class of 1972. He was hired as a teacher and coach in 1996 and then served in several campus leadership roles at Bryson Elementary School, Highland Middle School, Wayside Middle School, and Watson Learning Center (now Watson High School) before being selected to open Saginaw High School in 2005 as its first principal. Mr. Canterbury served as SHS principal until his retirement in 2012 but continued serving as a teacher and coach until his second retirement in May 2019. An active member of the community, he also has served on the EMS ISD Athletic Hall of Fame committee.
Current and former educators, students, and community leaders came out for the dedication ceremony, which opened with welcome remarks from Karen Pressley, current SHS principal who served with Canterbury at both Highland Middle School and SHS. Dr. Chadwell provided special introductions and shared a few stories about his interactions with Canterbury. The Saginaw High School Varsity Mixed A Capella Choir, under the direction of Michael Williams, then performed the school song before School Board President Steve Newcom made the official dedication of the field and presented Canterbury with a plaque. A very humbled and honored Canterbury thanked the Board and leadership and recognized those individuals who have supported and influenced him throughout his career. The ceremony closed with an official ribbon cutting on the field.
Canterbury's long history of service and support of EMS ISD, Saginaw High School, and the surrounding community leaves a lasting legacy that lives on within the strong culture and spirit of Saginaw High School and the Eagle Mountain-Saginaw community.