Return to Headlines
HCTC A/V Technology students produce Economic Development video recognized at international conference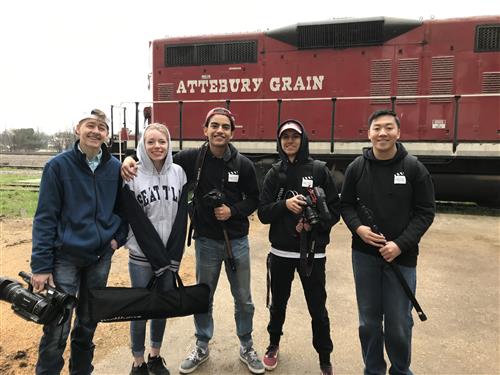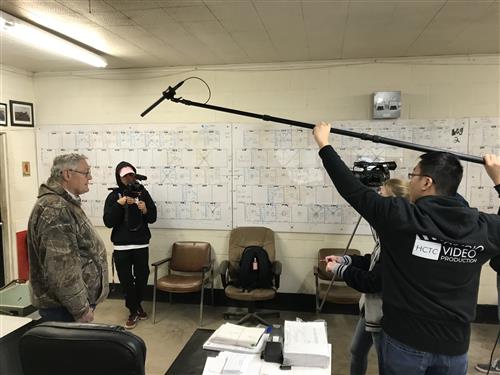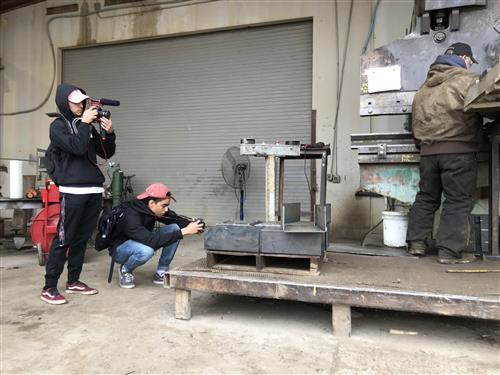 EMS ISD Audio and Video Technology students from the Hollenstein Career and Technology Center (HCTC) filmed and produced a marketing video with the City of Saginaw, "Made in Saginaw," that was awarded the International Economic Development Council's 2019 Bronze Award in Multimedia/Video Promotion.
The City of Saginaw was presented the Bronze Award at a ceremony on October 15 during the IEDC Annual Conference in Indianapolis, Ind. The video showcased some of the interesting and exciting companies within Saginaw's industrial core and some of the products that are created within the community. Much like the name suggests, even the video itself was made from homegrown talent. Leading the charge on the project was HCTC Media Technology Teacher Jorge Garza.
"I'm extremely proud of my students' hard work and perseverance," Garza said. "There are several stages to our video projects and it's easy to lose momentum at any point, but this crew was excited at the opportunity to showcase their community and they kept working diligently on all of the details. Our students are talented and eager to bring their creative ideas to the screen. With the right opportunities and a little direction, they're able to share those great ideas and stories. I'm extremely grateful for this student opportunity, made possible by the City of Saginaw and EMS ISD administration. Their belief and encouragement helps our HCTC audio/video program grow."
The students were 2019 graduates Danny Nguyen (Saginaw HS), Emilie Fleming (Saginaw HS), and Peter Sanjur (Chisholm Trail HS), and seniors Jaxon Davis (Boswell HS) and Joseph Nash (Boswell HS).
The City of Saginaw's Director of Economic Development, Alora Wachholz, CEcD, set the vision for what she wanted to showcase in the video. Her office lined up all of the interviews and visits with local businesses. EMS ISD provided a way to get students to the business locations, and from there, the students gathered the interview footage and video clips needed to complete the project.
"Winning an award for our local efforts to promote the beautiful community of Saginaw is a great thing," Wachholz said. "However, there are four real reasons this project succeeded: great local leadership in our school district, great local leadership in our City, exceptional local industrial partners, and some of the most talented and creative students you can find."
The video crew initially consisted of five students who rotated on equipment and conducting interviews. When it was time to edit, Peter Sanjur, Class of 2019 Chisholm Trail HS graduate, went to work making edits and working with Walchholz. Sanjur is now in his first year of college at the University of North Texas and is pursuing a major in media arts. He also works at UNT's student magazine, "OVER.' He said that his Audio/Video courses at HCTC gave him opportunities to do real-world work.
"In terms of camera skills, this project gave me the opportunity to put all my knowledge and passion into a single project which I never had the chance to do prior," Sanjur said. "Never had I gone into the field and actually filmed something with a group and worked with companies. Though the real magic happened outside of class, when I had to edit all the footage. It was my first project incorporating sound design and it turned out to be much harder than I thought, but I eventually got better from this challenge! The biggest help would have to go to Mr. Garza. If it weren't for him pushing me so hard all the time and giving me advice whenever I needed it, I don't think I would be where I am today."
Boswell High School senior Jaxon Davis shared the same sentiment.
"I was excited when I heard our video placed because this video just didn't represent us, the HCTC students, it represented the city that I've been a part of and loved for almost a decade," Davis said. "From working on this video and taking the audio/video class, I've learned to just be yourself, show your personality, and work hard on any project. And also, to sit down and talk with your peers to review/critique to see what you can do to produce better content. The last thing I've learned is how important teachers are and how they spend their time trying to prepare us for the future. I wouldn't have been in this if it weren't for Mr.Garza; he's given us many opportunities to help us reach our goals."
Sanjur was surprised when he learned it was an international award.
"When I heard the video received an award, I was a little shocked," Sanjur said. "Mr. Garza had told me we placed in third to which I responded, 'Oh sweet.' I thought that maybe this was a video contest within our local cities or Texas. However, once he explained it further, I was in shock. Never did I think that such a small video, and produced with an even smaller crew, could get that far. It's thanks to everyone's hard work that we were able to accomplish such an achievement!"
Garza said his classroom imitates a small video production company to give his students real-world experience and a framework of what they can expect in future careers.
"We work hard on creating a culture that functions like the real world," Garza said. "We have roles, expectations, and deadlines. They have a big say in how the 'company' runs. If they own it, they end up working harder to maintain it. But most importantly, we look out for each other. The work we do can only get better if we're honest and transparent with constructive feedback on each other's work. We're very intentional with that feedback. Audio/video can be really technical and we're bound to hit technical issues or hurdles. I remind them to keep moving, to ask a friend, ask me, Google the facts, or YouTube a positive solution that helps them jump the hurdle. The real world is like that too. We hit hurdles all of the time. My goal is to prepare them for that. Hopefully, they remember to keep moving, look it up online, or reach out to someone who can help."
IEDC's Excellence in Economic Development Awards recognizes the world's best economic development programs, partnerships, and marketing materials, and the year's most influential leaders. Thirty-four award categories honor organizations and individuals for their efforts in creating positive change in urban, suburban, and rural communities. Awards are judged by a diverse panel of economic and community developers from around the world, following a nomination process held earlier in the year. IEDC received more than 400 submissions from 12 countries.
"The recipients of IEDC's Excellence in Economic Development awards represent the very best of economic development and exemplify the ingenuity, integrity, and leadership that our profession strives for each and every day", said 2019 IEDC Board Chair, Tracye McDaniel. "We're honored to recognize more than 100 communities for their excellent work, which forges new opportunities for our profession."
The "Made in Saginaw" video can be found online by going to the City of Saginaw's website and clicking on the Economic Development Department homepage. The award plaque that was presented to the City will be finding a new home in the upcoming weeks in the Audio/Video department at the HCTC. The City will be gifting the award in appreciation to the department at a future public Council Meeting.
---
About the International Economic Development Council
The International Economic Development Council (IEDC) is a non-profit, non-partisan membership organization serving economic developers. With more than 5,000 members, IEDC is the largest organization of its kind. Economic developers promote economic well-being and quality of life for their communities, by creating, retaining and expanding jobs that facilitate growth, enhance wealth and provide a stable tax base. From public to private, rural to urban and local to international, IEDC's members are engaged in the full range of economic development experience. Given the breadth of economic development work, our members are employed in a wide variety of settings including local, state, provincial and federal governments, public-private partnerships, chambers of commerce, universities and a variety of other institutions. When we succeed, our members create high-quality jobs, develop vibrant communities, and improve the quality of life in their regions. Learn more at iedconline.org.