Return to Headlines
Work underway on next phase of district strategic planning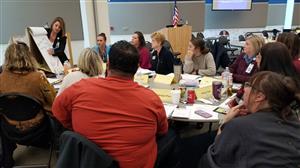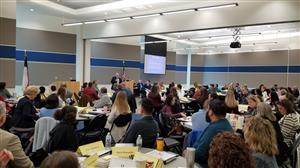 Pictured above: Strategic Planning Team members work in large groups and smaller table groups to identify objectives and strategies for the next strategic plan.
For the past eight years, EMS ISD has been working strategically to build excellence in all areas of academics, operations, and experiences for students, staff and families. Through an intentional focus and continuous support of the Board, district leaders are pleased that the Aspire 2022 strategic plan has reached substantial completion two years earlier than projected. As we celebrate the progress of these goals and objectives, we also look to continue that work through the next phase of strategic focus in Aspire 2025.
Aspire 2022 was approved by the Board of Trustees in April 2012. This plan defined the district mission and beliefs that remain the foundation of EMS ISD today, and laid foundations in the areas of customized learning opportunities, technology skills and innovations, hiring standards and continued professional development, and support structures to enhance our culture of community and excellence.
Dr. Jim F. Chadwell, Superintendent, said that strategic planning focused on continuous improvement is a vital component in ensuring progress and innovation.
"A strategic plan is often called a road map for the future of a district," he said. "While our plan certainly charts our path, it also reflects the mutual goals and desires of our entire school district community. Our district mission is about creating the conditions for excellence to occur, and our strategic plan is the mechanism to help us continuously move toward that goal together."
The Aspire 2025 process involves more than 200 teachers, students, parents, administrators and community volunteers working as part of a Strategic Planning Team or individual Action Teams to design the next phase of the district's strategic initiatives. Work began in October 2019, when members of the Strategic Planning Team kicked off their task of identifying overall objectives and targeted strategies.
Volunteers then began working in January 2020 on Action Teams to create realistic and measurable implementation steps for each strategy. These steps will be used by district leaders to guide programs and operations and instruction for the next five years.
Maya Stevens, Chisholm Trail HS Class of 2020, said being involved in the strategic planning process has been a rewarding, refreshing and eye-opening experience.
"The most interesting part about being involved in the strategic planning process is hearing perspectives from people all over the district; from elementary school students to teachers to district employees," she said. "It's refreshing to hear thoughts from different points of view."
The input of community and district leaders helped define three core goals that guide the strategic planning process: Excellence in academics, Excellence in personalized opportunities; and Excellence in organizational improvement. The Strategic Planning Team then identified eight strategic areas of focus for Aspire 2025: Teaching and learning, recruitment and retention of quality staff, social/emotional support, student engagement, staff engagement, family engagement, systems thinking, and safety and security. Communication and technology initiatives will be woven throughout the plan in every strategic area.
Brantley Gallman, Pre-Advanced Placement English teacher at Saginaw HS, said he was encouraged and honored to be included in a vital district process as a member of the Strategic Planning Team.
"I enjoyed seeing the students, parents, and community members involved in the process as it helped reinforce the 'why' of what we do as educators," said Gallman, who will serve as Assistant Principal at SHS beginning in 2020-2021. "We all want very similar outcomes for the success of our district, but they stem from different reasons. It was encouraging to see that come together in a coordinated result."
Stevens said she is excited to see the Aspire 2025 strategic plan come to life across the district and benefit future generations of students.
"I believe the work that has gone into the strategic planning process will impact future EMS ISD students in a beneficial way because the objectives and strategies that we've worked on are geared towards making the students feel comfortable on campus, which will encourage individual students to succeed in a new way," she said. "And I was looking at the plan from the viewpoint of someone who wants my children to potentially go to school in EMS ISD because I believe this district is special and I love this town so much!"
The Strategic Planning Team and Action Teams will finalize a plan that will be presented to the EMS ISD Board of Education in June 2020.