Return to Headlines
Three student businesses named "Company of the Year" contenders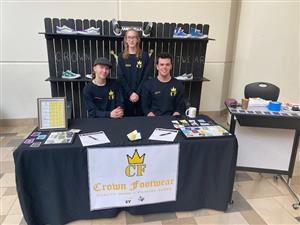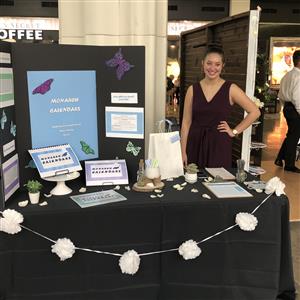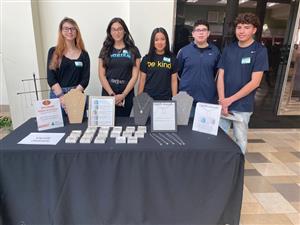 Pictured from left: Crown Footwear, Monarch Calendars, and Uplift Jewels. These student businesses will advance to the Junior Achievement Company of the Year competition March 18 at Tarrant County College.
Three Eagle Mountain-Saginaw ISD student businesses will have the chance to be named Company of the Year in March. Crown Footwear, Monarch Calendars, and Uplift Jewels placed in the top 10 at the Junior Achievement of Chisholm Trail's Company Program Trade Fair on February 15 at the North East Mall in Hurst.
"The participating students have become true entrepreneurs, experiencing the start-up and operation processes of a business," said Dana Eldredge, career and technical education director.
Groups pitched and sold their authentic wares at the public event. Approximately 25 student-created companies from across the Fort Worth area participated, 11 of them from EMS ISD. The companies earned a combined total of $5,653.12 after four hours of selling.
Crown Footwear, Boswell High School seniors Liam Walker and John Hickman and sophomore Helen Plaskota, was named Most Innovative Product Packaging Champion. The company offers customized, hand-painted shoes. Shoppers can have their own shoes decorated or choose a pair from the company's catalog. Plus, customers can take home a shoebox that's decorated to match their customized footwear.
Monarch Calendars, owned by Chisholm Trail High School senior Maya Stevens, was named Best Sales Presentation Runner-Up. Monarch Calendars sells self-help, interactive calendars that offer daily reminders, habit and mood trackers, and goal setting ideas. The calendar makes it easy for users to set a goal each week and enjoy a reward at the end of it.
Uplift Jewels earned a spot in the top ten for their stainless steel motivational necklaces and charms. The company is owned by Saginaw High School students Melanie Torres Jurado, Anthony Murillo, Kyer Malone, Bhawana Gurung, Matthew Becerra, and Becca Lomedico.
Teams were judged on a live sales presentation, annual report, and a commercial and competed in categories including Best in Show, Best Booth, Most Innovative Product and Most Sales. The three teams will advance to the Company of the Year competition March 18 at Tarrant County College.
Students began building their companies in fall 2019. Groups worked together as an established company by creating departments such as human resources, sales, marketing, and finance. Students decided on a product, built or ordered a prototype, developed pricing, and set up the product for online purchase.
"The companies may decide to continue their company or they may dissolve and split profits among the students," said Cindy Hames, president of Junior Achievement of the Chisholm Trail. "Some even take a percentage of the profit and donate to a non-profit of choice."
Additionally, after student companies have broken even, any profit is used to pay back investors.
Junior Achievement is a nonprofit group dedicated to teaching students financial literacy, entrepreneurship, and career readiness. EMS ISD partners with Junior Achievement to supplement learning with these life management skills at age appropriate levels in grades Pre-K – 12. We are #EMSProud of our student entrepreneurs!