Return to Headlines
EMS ISD Earns High B in State Accountability Ratings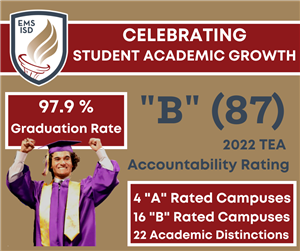 Eagle Mountain-Saginaw ISD students continue achieving at a high level according to accountability ratings from the Texas Education Agency (TEA) released on August 15. The school district received an 87 rating, with four "A" rated campuses, 16 "B" rated campuses and eight "C" rated campuses.
"Coming out of COVID-19, the negative impact the pandemic had on learning was hard for all," said Dr. Linda Parker, EMS ISD Deputy Superintendent. "Our scores from this past year are indicative of the focused effort of our teachers and administrators as well as tutors to support student learning, as well as the daily work of our campuses to create environments that are safe and conducive for learning."
This is the first year TEA has released accountability ratings since the 2018-2019 school year. In that year, EMS ISD earned an 88. District leaders are encouraged that students are exhibiting knowledge at a pre-COVID level. Areas of the 2022 report that particularly stand out for the district include a 97.9% graduation rate and 22 campus-level academic distinctions, awarded for achievement when compared to similar schools.
"The previous years have been hard on many counts, and the outcome of this State Accountability Rating is a celebration of the hard work and commitment that has remained steadfast throughout our classrooms," Parker said. "We are very proud of our students and staff."
EMS ISD also stood out in the area of School Progress, which includes Academic Growth. Success in this area is exciting, though not unexpected, as EMS ISD places a focus on Excellence in Academics as part of the district's Aspire 2025 strategic plan.
While EMS ISD is proud of the academic growth shown by students across the district, it's important to remember that accountability ratings are just one indicator of successful schools. EMS ISD believes that an excellent education goes beyond the rating and is fostered through a school filled with high quality, engaged staff and engaged families, allowing students to learn in a safe, supportive environment.
You can view ratings for all EMS ISD schools at www.TXschools.gov.
TXschools.gov Información para los padres
Academic Distinctions: A total of 22 distinctions are being awarded to 10 campuses. Distinctions are awarded in key areas relative to other comparable campuses across the state.
Bryson Elementary School: Comparative Academic Growth
Copper Creek Elementary School: Comparative Academic Growth
Elkins Elementary School: Comparative Academic Growth
Lake Pointe Elementary School: Mathematics, Science, Comparative Academic Growth, Comparative Closing the Gaps
Northbrook Elementary School: Postsecondary Readiness
Willow Creek Elementary School: Science
Creekview Middle School: English Language Arts, Mathematics, Science, Social Studies, Comparative Academic Growth, Postsecondary Readiness, Comparative Closing the Gaps
Wayside Middle School: Mathematics, Comparative Academic Growth, Comparative Closing the Gaps
Saginaw High School: Comparative Academic Growth, Comparative Closing the Gaps