Return to Headlines
Board Approves Name of New Elementary Campus
Posted September 20, 2022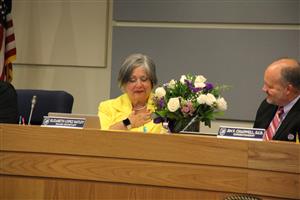 In August 2023, Eagle Mountain-Saginaw ISD will welcome staff and families to its newest elementary campus. This will be the district's 18th elementary school and is part of the bond program approved by voters in 2017.
During the September 2022 meeting, the EMS ISD Board of Trustees approved a recommendation of the Board Naming Committee by a vote of 6-0 to name the new campus as Elizabeth Lopez Hatley Elementary School. Its namesake is a long-time educator and volunteer in EMS ISD, who also has served the past eight years on the school board. Hatley abstained from the official Board vote.
Elizabeth Lopez Hatley Elementary School will be located in the Beltmill development on the northeast corner of Business 287 (Saginaw Blvd.) and Bailey Boswell Road in Saginaw. Construction is underway and the project is on schedule to open in August 2023. The school colors will be purple and white. District and Board leaders will work with Hatley on the selection of a mascot for the school. The attendance zone for the new elementary has not yet been determined.
The Board vote brought a standing ovation for Hatley, who wiped away tears of joy at the news.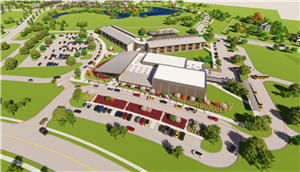 "Mrs. Hatley is well loved and highly respected for her dedication to the students, families, district leadership and EMS ISD community," said Dr. Marilyn Tolbert, Board Vice President and member of the Board Naming Committee, as she made the official motion to recommend the school name.
Trustee William J. Boaz added, "nobody has their pulse on this district like Liz Hatley. She is so loved."
Hatley has a long, highly impactful history with the district and community. She joined EMS ISD in 1980 when the district had three elementaries, one middle school, and one high school. She retired in 2011 after 35 years in education, with 25 years served in EMS ISD. During her tenure, she served as a teacher at Eagle Mountain ES and then as a Gifted/PACE teacher at Elkins and Bryson elementaries. She was a districtwide principal intern with fellow Board member Tolbert (2001-02), assistant principal at Highland Middle School (2002-05), opened and served as principal of Chisholm Ridge Elementary (2005-07), then moved into district administration as the Director of Curriculum (2007-11). She even served as interim principal post-retirement.
Her service in the community did not end there. In 2014, she was elected to the EMS ISD Board of Education, where she has served for the last eight years. She is active with the EMS Retired School Employees, EMS Education Foundation, Alpha Delta Kappa educator fraternity, Community Link Mission, and her church. She serves as a Read2Win volunteer and can be seen attending programs and cheering on students and staff at events across the district.
"From the time I started as a student at age 6 until now, I've been in education for 63 years and I love it," Hatley said. "I'm overwhelmed and very honored."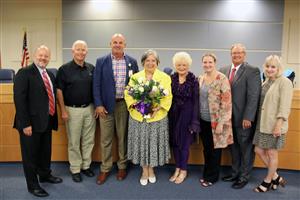 Hatley and her husband, Randall, have three children; all attended EMS ISD schools and two of whom are Boswell High School alumni. One is currently teaching in EMS ISD; their daughter, Melissa Warren, is in her 15th year in education and currently at Lake Pointe Elementary School. One granddaughter is a 2015 graduate of Boswell HS and another granddaughter is currently attending Boswell. In her spare time, you will find her spending time with family and friends, reading, or attending sporting events, the symphony, or the theater.
"When I think of Liz Hatley, several words come to mind – wise, generous, faithful, committed, knowledgeable, a wealth of resources, and pure joyfulness," said Dr. Jim F. Chadwell, Superintendent. "This will be a special school that bears her name and, if it reflects just a percentage of things I described of her, this campus will be a resounding success."
Please visit the EMS ISD Bond Progress website for regular updates about Elizabeth Lopez Hatley Elementary School as well as other ongoing bond projects.