Return to Headlines
EMS ISD Joins National Partners to Enhance STEM Learning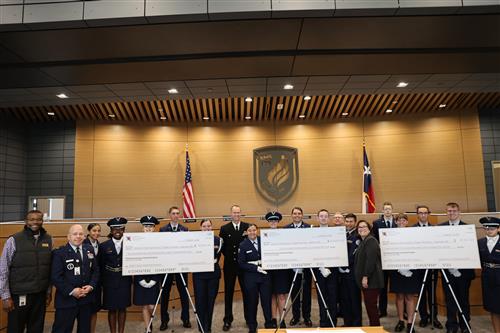 The National Math and Science Initiative (NMSI) is launching its College Readiness Program (CRP) in partnership with Eagle Mountain-Saginaw ISD high schools and middle schools.
The partnership was cemented during a ceremony held on Tuesday, October 31, at the EMS ISD Administration Building and Discovery Lab Learning Center, which included the presentation of the colors by the EMS ISD Air Force JROTC, the pledges of allegiance by Boswell High School sophomore Emory Miarmontes-Eldredge, and the National Anthem performed by the Chisholm Trail High School Ranger Vocal Band.
Ceremonial grant-funded checks were presented to the Boswell, Chisholm Trail and Saginaw high school principals, totaling $477,653 for their schools.
With the funding, all Advanced Placement (AP) teachers in EMS ISD will work with a Science, Technology, Engineering and Math (STEM) focused curriculum and receive the science and engineering equipment needed for student learning. The AP teachers also attended a hands-on, interactive conference about further incorporating STEM education into their classroom.
EMS ISD was selected, in part, due to the high number of military-connected students in the school district, many with parents who work at nearby Naval Air Station (NAS) Joint Reserve Base (JRB) Fort Worth.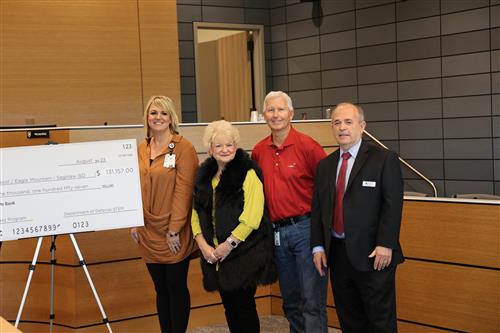 "Thank you for all you do for military-connected families," said Captain Mark McLean, commanding officer for the NAS JRB Fort Worth. "[EMS ISD] has become the new destination [for our families], and it is because of the school district you have built here."
While this is the beginning of a new partnership, EMS ISD's work with the military and military-connected families has been ongoing.
"When military families move into our area and their children are in our schools, we recognize the need to step up and help them," said Dr. Jim F. Chadwell, Superintendent of EMS ISD. "While they are here, they feel like they are a part of our family, and not just passing through."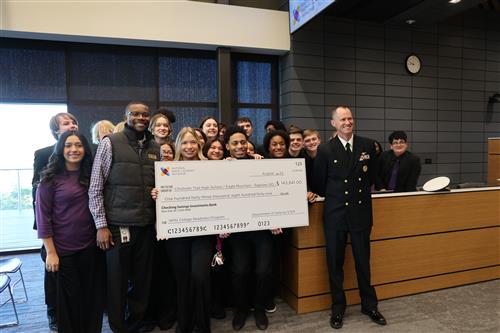 While the funding is geared towards military-connected students, students across EMS ISD will benefit.
"What is most important is we are here with funding from the Department of Defense not just for military kids, but the program is open to all kids in the schools," said Ed Veiga, the NMSI director for STEM education.
Dr. Dana Barnes, EMS ISD Deputy Superintendent, added that as a result of the partnership, students across EMS ISD will have the opportunity to benefit from enhanced teacher training, access to valuable resources and equipment, and fee reductions for STEM-related Advanced Placement exams.
"This collaborative effort underscores our commitment to providing high-quality STEM education to prepare our students for success in the fields of math, science, technology and engineering," she said. "We are excited about the prospects this partnership brings and the positive impact it will have on our students' educational journeys."
EMS ISD is honored to partner with the Department of Defense and the National Math and Science Institute to ensure we are educating students to achieve careers in important STEM fields in the United States Armed Forces and the civilian sector for years to come.