Chisholm Ridge Elementary Homepage
Return to Headlines
Mobile Dairy Classroom Rolls into Chisholm Ridge Elementary School
Students at Chisholm Ridge Elementary School knew they were about to see a special presentation, but you could see their surprise when they stepped outside and found a live cow in the school's front driveway.
Faith Laguna, a student in Gina Boyd's first grade class, had never seen a cow in person before. Her classmate Kennedy Hill has seen cows, but never a cow that was entirely brown. Both were very excited.
The cow is Honey, a Southwest Dairy Farmers Association mobile classroom cow that visited Chisholm Ridge with her human partner, Kayler Campbell, to educate children about how milk goes from farm to table. They're one of six human/dairy cow teams that travel around Texas.
"I showed and judged dairy cattle when I was younger," Campbell said. "Now, I get to teach and talk about cows and dairy, two of my favorite passions."
Through the presentation, students learned about the different types of dairy cows. This surprised second-grader Maddox Landers.
"I thought the cow would be white and black," he said.
He learned that not all dairy cows are white and black Holsteins. Others, like Honey, are brown Jersey cows.
Campbell also discussed all of the products made from milk, asking the students, "have you ever had chocolate milk? Have you ever eaten cheese on your tacos, on your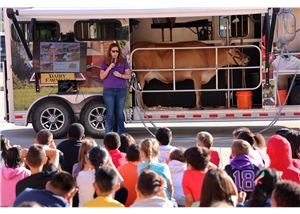 chili? Have you ever eaten yogurt?"
All received a resounding "yes" from the classes. Campbell continued by teaching the anatomy of the cow by pointing to various parts of Honey's body, explaining how the food they eat turns into milk.
This was not new information for many students at the school. A number of classes have recently read books like "Milk: From Cow to Carton" and confidently answered Campbell's questions.
"They just learned about the cow and how they digest food and make milk. So, it's really neat for them to see it in action," Boyd said.
Then, the moment the students had waited for.
"I liked seeing the cow being milked. That was my favorite part," said first-grader Lucy Gutierrez.
And that is the part of the presentation where Honey and Campbell usually get the biggest reaction from the students.
"When you milk a cow the kids get super excited about it," she said. "But they're learning how the milk gets from the cow to the table, which is super awesome."
As the presentation ended, the students were able to walk by Honey for a closer look and ask Campbell any questions. The timing of this presentation coincided with National School Lunch Week, October 10-14. EMS ISD schools featured Texas grown and made foods in the cafeterias. In addition to highlighting Texas products, the EMS ISD Child Nutrition Department looks for unique learning opportunities like this to bring to students.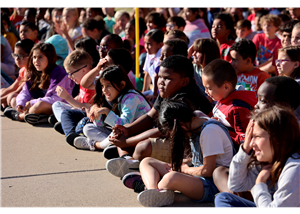 "Having the Southwest Dairy Farmers Mobile Classroom come into our district allows a unique opportunity for our students to learn about healthy eating and where our food and milk come from before reaching our plates," said Meghan Martinson, Assistant Director of Child Nutrition in EMS ISD. "This experience gives our students the opportunity to meet a real dairy cow and connect with Texas dairy production by bringing the dairy experience and process to the students."
An experience that left a lasting impression on students like Laguna who, while initially shocked by the cow, left saying, "It's fun seeing where milk really comes from."
As EMS ISD works to maximize student potential and focus on student engagement, the Child Nutrition department plans to coordinate with the Southwest Dairy Farmers Association to bring the Mobile Dairy Classroom to additional EMS ISD elementary schools in the spring semester.